Reaching Business to Business Clients With Facebook
But Facebook is for Cat Videos and Complaining About Trump Right!?
No.
Well, it can be.
But it is also the single most potent marketing channel for ROI available to Businesses right now.
Let's explore that a bit more;
Here's the CEO of the largest Social Media Agency in the world at last year's Hubspot Inbound Marketing Conference on using Facebook Ads for Businesses:

Facebook CPM's will go from $5 to over $30 in 2018!
Business to Business (B2B) ads can generate awareness massive for your business, attract the right people to try your new and existing products for the first time, or, like many Business to Consumer (B2C) ads, go straight for a sale – Direct Marketing 101.
We Tried Facebook Ads – They Didn't Work
It's essential to ensure your Marketing Budget is being spent wisely and your Facebook ads are part of your overall Marketing Strategy.
Throwing $100 or $1000 at "Men and Women 25-60+ in Australia" to get them to look at your IT Service Management Business Capability Statement will likely burn through in a matter of hours with a Relevancy Score of 1…hurting your brand's social profile and that's if the ad actually even gets approved in the first place!
Facebook Ads agencies are a great place to kickstart your strategy with a proven track record of results. You can use the results and learnings, processes and techniques from using an agency to upskill your marketing department to run their own campaigns.
Worldwide, there are over 1.86 billion monthly active Facebook users, which is a 17 percent increase year over year. (Source: Facebook as of 02/01/17)
How To Target Businesses On Facebook
Did you know that Facebook allows you to target by workplace?
To find that option, click the More Demographics drop-down menu, click on Work, and select one of the workplace targeting options. This example targets Employers.
You don't need to run any "Like Campaigns" to get a whole heap of completely useless likes. Simply identify the people who would recommend your business to their friends and ask them to like you. You will then build your base by using Facebook advertising to amplify these endorsements (Think LinkedIn). The larger this initial group of core fans, the quicker you can start achieving rapid business growth.
The other way, as Gary Vee mentioned above, go the indirect route and tap into our competitive and pleasing human nature, by appealing to the ambitious – "What every CIO needs to know about <blank>" and target the employees of the businesses your service is best suited to.
Target Businesses in a Specific Location
Do you want to get your Facebook posts in front of an audience at a specific physical location?
Have you considered targeting people based on where they work?
Using workplace targeting with detailed location markers will make it easy to get your content in front of the right people at the right company. This is particularly relevant when you have different cultural messages, pricing structures, or geographical product market fit.
What Is Retargeting and Remarketing?
Customers are increasing harder to find due to the amount of noise and the speed of commerce these days.
In the 70's, consumers needed 3 touch points to "Know, Like, and Trust" your brand. Now it's 14! Thanks Netflix
But, all is not lost, you can use a simple piece of <Script> Code on your website, (a copy paste from your Facebook page account) is enough to be able to track your visitors, leads, buyers, and more, wherever they go on the internet.
Truth is, someone who has bought from you or read something from you already is far more likely to purchase from you again in the future.
This is where remarketing becomes not only powerful, but essential in your marketing toolkit.
42% of marketers report that Facebook is critical or important to their business.
Case Studies of Business Facebook Ads
Here are some examples of Business Ad campaigns you can use for inspiration. We've broken it down into 3 main categories you could use to increase leads and sales into your business; Free Trials, Awareness and Lead Gen, and Selling Product.
Free Trial
If you have a product or SAAS service, offering a free trial is a great introduction to your brand and company for new customers. It can also be the hook that gives your onboarding process a couple of weeks to turn those leads into loyal customers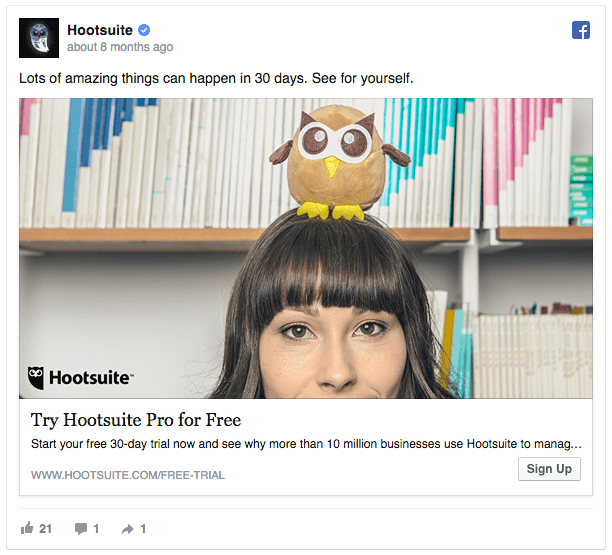 Awareness and Lead Gen
Attention is the new game in business and once you have someone's attention, you need to prove that you know what you're talking about before someone is going to take a chance on you, your product, or service.
That's why B2B companies are using Facebook ads to offer a free resource, something valuable up front, to show they have the unique insights, skills, or experience to deliver something the competition can't.
Selling Product
What's your experience using one of the biggest social networks in the world to drive new leads and customers to your business?
Need Help Implementing Facebook Ads in Your Business?
With more than 4 years and over $1M in ad spend experience, our Facebook Ads Agency is expanding from Event Coordination and Ecommerce campaigns to now fully support Corporate and SME's with their Business to Business Marketing Campaigns.
To schedule a free, no obligation Facebook Ads and Marketing Strategy session with our Founder Nathan, simply visit RapidStartup.io/ for more information.
Alternatively, just click the Work With Nathan link below or in the sidebar.
Thanks to Adespresso, Adweek, and Rapidstartup.io for providing inspiration for this post.